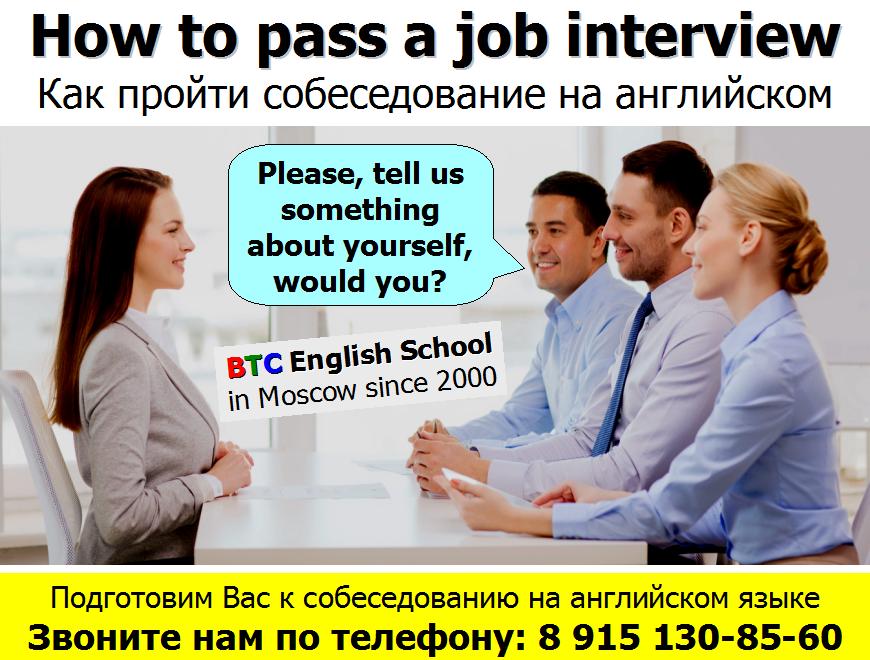 Примечание: Изучение всей необходимой озвученной лексики (т.е. слов и выражений, а также и пояснительного материала) находится в Уроке 11 на страницах 470-480 основного курса-самоучителя "Breakthrough" the Cool! данной школы разговорного английского языка авторов Александра Газинского и Ольги Бондаренко (= Синенко).



Some tips (= Some lifehacks = Some practical advice) for those who are currently seeking a job and are about to pass an interview shortly:
Советы (= Практические уловки = Практический совет) тем, кто в данный момент ищет работу и вскоре собираются пройти собеседование (= интервью):


1. First (= Firstly = First of all = First and foremost), you have to know as much as possible about the company or organization that you are going to be interviewed through. Find out something about the background of the company because you have to learn what products or services they deal with, what types of work they are involved in. You have to properly prepare yourself before you go through an interview. You should well know what questions to ask the panel (= the board) during the interview. So have some good questions about the sort of training that they offer, the prospects that might be in the future, who you might be working with and what kind of things might happen when you first join them, for instance.
1. Прежде всего, Вам нужно узнать, как можно больше о той компании или организации, в которой Вы будете проходить собеседование. Соберите какие-нибудь сведения об этой компании, потому что Вам нужно знать, с какими товарами или услугами она имеет дело, в какой сфере она задействована. Вам нужно подготовиться к собеседованию должным образом. Следует хорошо знать вопросы, которые Вы будете задавать комиссии во время интервью. Так что подготовьте хорошие вопросы о курсе (пере)обучения, который они предлагают, о будущих перспективах, о том, с кем Вы, возможно, будете работать, и что может случиться, когда Вы, к примеру, только начнете у них работать.


2. The interview is your big chance to show that you are the best person for the job. So you have to create the right impression on the board (= the panel). Remember that the first impression is very important. Before going to an interview, think about the company and the person who is likely to be interviewing you. Try hard to meet their expectations. If they expect you to arrive in a business suit, then arrive in a business suit. If they expect you to be casual, then arrive casual. The other thing, as well, is also to try and communicate with the interviewer by using the right body language, make eye contact. People find it very difficult to talk to you if you don't look them in the eye. They will find it kind of hard at an interview if you don't give the best of yourself. Use proper body language, as well: nod, smile, look positive, be expressive, don't sit there unmoving and dumb, and unsmiling and uncommunicative. Often enough, many applicants' mind goes blank and they don't know what to say next, they lose confidence and look very lost. So it's not too much of a problem (= That's not a big problem) to take something with you to the interview by way of written material with some notes to yourself about the company and the questions that you would like to ask. There is no problem at all in having them written down and referring to them during the interview.
2. Собеседование – это Ваш большой шанс показать, что Вы являетесь лучшим из претендентов на работу. Поэтому следует произвести правильное впечатление на людей в комиссии. Помните, что первое впечатление очень важно. Прежде чем отправиться на интервью, подумайте о компании и о том человеке, который вероятно будет проводить с Вами собеседование. Очень постарайтесь оправдать его ожидания. Если от Вас будут ожидать, чтобы Вы пришли в деловом костюме, приходите в деловом костюме. Если же они будут ожидать от Вас обычную одежду, приходите в ней. И еще очень важно пытаться общаться с помощью правильного языка жестов и зрительного контакта с тем человеком, который будет с Вами беседовать. Людям будет очень тяжело с Вами разговаривать, если Вы не будете смотреть им в глаза. Им будет трудно на собеседовании, если Вы не покажите себя с самой лучшей стороны. Используйте правильный язык жестов, например кивайте и улыбайтесь, будьте позитивным и выразительным, не сидите без движения с глупым видом. Улыбайтесь при общении. Зачастую у многих поступающих на работу людей в голове наступает затмение и они не знают, что говорить дальше, они теряют уверенность и выглядят очень растерянными. Чтобы не возникала такая проблема, можно принести с собой на собеседование какой-то письменный материал с пометками о компании и те вопросы, которые Вы бы хотели задать. К таким записям можно легко прибегать во время собеседования.



3. You also need to write a correct CV or application form beforehand (= in advance). They must be clear, easy to read and full of information for persons reading them. You can also practise at home walking into a room confidently with your head up, not smiling broadly, not grinning but with a look of confidence on your face. Look in the mirror. It may seem silly and very simple, but all these things matter, even sitting down. Wait to be asked to sit down because they will point you to the chair. And once again, you have to bear (= to keep) in mind that your first impression is made with the organization just when you first meet them.
3. Вам также необходимо заранее составить Ваше резюме или написать заявление. Они должны быть ясными, легкими для чтения и содержать полную информацию для людей, которые будут их читать. Вы также можете потренироваться дома, как уверенно входить в помещение с поднятой головой без широкой улыбки или ухмылки, но с уверенным взглядом на лице. Посмотрите в зеркало. Это может показаться глупым и очень простым, но все это имеет большое значение, и даже то, как Вы садитесь. Ждите, пока Вас попросят сесть, потому что Вам укажут на стул. И еще раз, нужно помнить, что первое впечатление о Вас создается в компании в тот самый момент, когда Вы с ними встречаетесь впервые.


4. Think well about what precisely you can tell the interviewer about yourself. Ask yourself what are the three greatest achievements in your life; be they work achievements or other achievements, things that you can also tell the board about yourself, which will impress them, and convince them that you are someone that their company should employ.
4. Хорошо подумайте, что именно Вы можете рассказать работодателю о себе. Спросите себя, какие у Вас есть три самых важных достижения в жизни; будь это достижения на работе или другие достижения, о которых Вы также можете рассказать комиссии, что-то что их впечатлит и убедит, что Вы и есть тот самый человек, которого компании следует взять на работу.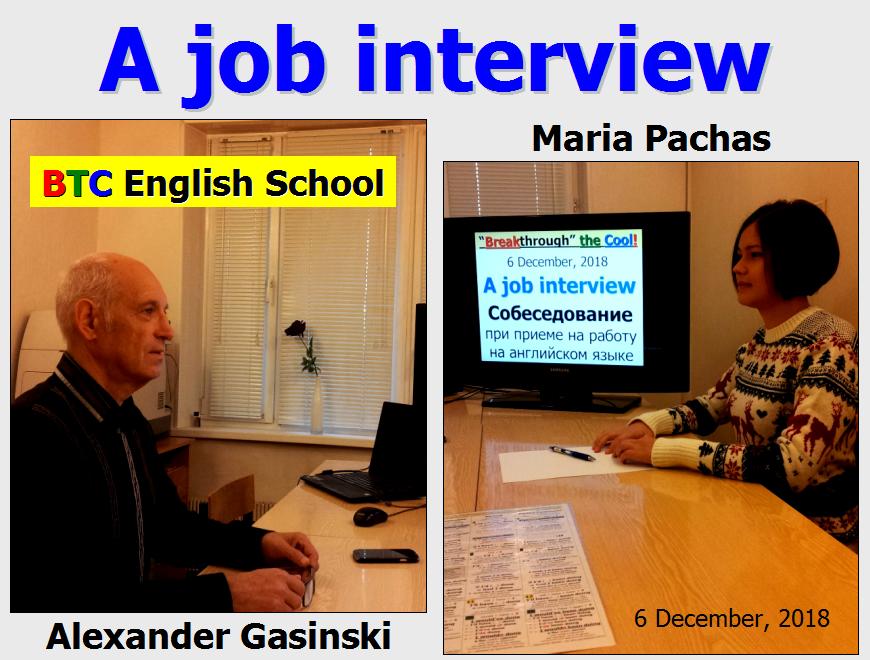 A trial job interview in the classroom
Пробное собеседование для поступления на работу на английском языке (диалог между учителем и ученицей в классе)


INTERVIEWER (ALEXANDER GASINSKI)
работодатель (Александр Газинский - учитель)

INTERVIEWEE (MARIA, HIS STUDENT, CURRENTLY LOOKING FOR A NEW JOB)
поступающая на работу = соискатель (Мария - ученица, в настоящее время ищет новую работу)


MR. GASINSKI: Good afternoon, young lady! Come on in. You must be Maria and you have come here for an interview, right?

MARIA: Right you are, sir. I talked to you on the phone (= by phone) two days ago.

MR. GASINSKI: Yes, I remember. Did you have a good journey (getting) here, Maria?

MARIA: Yes, thank you. I came by metro. It only took me (= I only took) about 20 minutes.

MR. GASINSKI: Pretty convenient, indeed. Well, sit down over here, please. Make yourself comfortable. Perhaps, we can get you a cup of tea or coffee?

MARIA: No, thank you, I'm fine, sir.

MR. GASINSKI: Good. Let's get started then. Can I have a look at your CV (to begin with), Maria?

MARIA: Yes, certainly (= of course = definitely). Here you are (= There you are).

TO BE CONTINUED
ПРОДОЛЖЕНИЕ СЛЕДУЕТ (После резюме)


Как правильно заполнить резюме, т.е. анкету для прохождения собеседования для приема на новую работу. Пожалуйста, заполняйте по аналогии со следующей анкетой ниже или звоните автору данного сайта Александру Газинскому по телефону 8 915 130-85-60 и мы Вам поможем корректно составить Ваше резюме.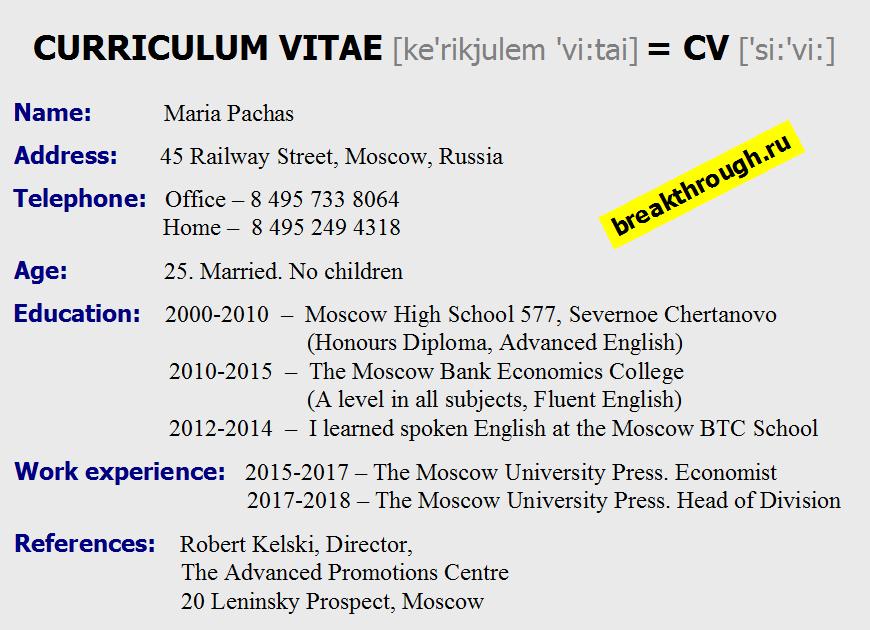 MR. GASINSKI: Well, it says here that you worked as an economist for two years. Then you were promoted to a Head of Division. Very nice, but... How come (= How's that) that you decided (= made up your mind) to apply to our company?

MARIA: There is a variaty of reasons (= There's a lot of different reasons), sir. First (= In the first place), the job I'm doing now is quite far from my home, but most importanly is the fact that my current company is not very large. It does not deal with foreign business and I do not intend to get stuck in it for good (= for eternity). I'm seeking broader opportunities with a larger company where I can fully apply both my professional skills and English.

MR. GASINSKI: Good on you (= for you), Maria! I appreciate your ambitions. Could you, please, tell me about your background? Education, working experience and...

MARIA: Yes, sure. I finished high school with an honors diploma eight years ago. Three years back, I graduated from the Moscow Bank Economics College and up to now I have worked for the only company that's put on my CV. I'm married. I do not have any children (yet = so far = this far). I'm fond of (= I like) travelling to English-speaking countries. Mostly.

MR. GASINSKI: I see. Little experience as yet, but on the other hand, you are very young so far (= this far). 25 only, right?

MARIA: Turning 26 next week, sir.

MR. GASINSKI: So, Maria, how much do you know about what kind of services and who we deal with worldwide (= up and down the world?

MARIA: Pretty enough (= Precisely enough), sir. I've been interested in the kind of work you do for quite some time now. Besides, you're always on TV (= on television).

MR. GASINSKI: Great (= Excellent)! Your English is quite (= rather = pretty) fluent (= smooth), by the way. That's how (= That's the way) they teach it at your college, eh?

MARIA: Yes, a little. Actually (= As a matter of fact), I learned spoken English in a small private school that's the BTC English School in Moscow, to be more exact (= to be more precise). Each summer (= Every summer), as a rule, I go to the USA and practise (= perfect = improve = boost) my English there.

MR. GASINSKI: Excellent (= Great = Good). We terribly need young specialists who speak English off-hand (= fluently enough). Still, Maria, why do you think we should favour you above the other candidates for this post (= position)?

MARIA: Well, I think (= I guess = I suppose = I figure out) I'm well qualified for the position (= the post) and my English, like you have mentioned, sir, is quite smooth (= fluent).

MR. GASINSKI: Do you realise (= Are you aware = Do you understand) that we send our workers on lenghthy business trips abroad? Sometimes, it might (= may) be a month long.

MARIA: Yes, I do and I'm absolutely prepared (= ready) for that. May (= Can) I ask you a few questions, sir?

MR. GASINSKI: But of course. That's what you're here for; to answer my questions and ask yours. Go ahead (= You're welcome), Maria.

MARIA: My current job pays me 80 thousand roubles a month, but I definitely expect a bit higher salary in your company.

MR. GASINSKI: Maria, you must have overlooked... There in the advertisement we indicated (= pointed out) that this position will pay whoever (= a person who) takes it 100 thousand roubles. Monthly bonuses, as well, on condition (that) your efficiency proves to be satisfactory. Now, feel free to (= please) ask me your other questions.

MARIA: What about the employment benefits? And could I rely (up)on having my four-week holiday during the summer period?

MR. GASINSKI: It goes without saying (= It stands to reason), Maria. In addition to direct wages, all our members of the staff (= the personnel) are given (= granted) holidays, insurance, medical benefits and pensions on a regular basis. Apart from that (= Besides), the company grants us all a thirty-percent discount for all the products it makes. As for summer holidays (= As far as summer holidays are concerned), I cannot (I can't) guaranty you that because it fully (= utterly) depends (up)on different circumstances.

MARIA: I understand, sir. Well, what about (= Am. how about) working overtime? I wouldn't mind if it did not happen (much) too often.

MR. GASINSKI: In all fairness (= To be fair with you), we do happen to ask our employees to work overtime at crucial moments but, I can assure you, we never insist (up)on that if people refuse. If they are in need of some extra (= additional) payments, they agree to work longer on their own (free) will.

MARIA: Great attitude, indeed. (It) Looks like, I'm all out of any other questions (= I haven't got any other questions).

MR. GASINSKI: Good. So we're nearly finished. I should (= I would) like to ask you one last question. Like what do you see yourself, (let's) say, in five years if you join our company?

MARIA: I guess (that) I will do my utmost (= my best = all I can) to make the best member of the staff ever and I mean it, sir.

MR. GASINSKI: Hm. You're very ambitious. Really (= Seriously), it's a good trait to have nowadays (= these days). Now we're finished (= we're through) for sure. Thanks for visiting us, Maria.

MARIA: Thank you for interviewing me. Whatever the outcome (= the result) might be, I'm sure to benefit (= to get benifitted) from it.

MR. GASINSKI: I will have a conference with my superiors right now. I'm confident (= I'm certain = I'm sure) you will be hired. Good-bye! My secretary will see you off to the exit.

MARIA: Looking forward to (hearing) a good piece of news! Good-bye, sir.






примеры предложения на английском языке Даем советы обучаем как писать написать составить резюме resume CV Curriculum Vitae легко успешно правильно пройти проходить интервью собеседование при поступлении на работу на английском языке Правильно следует подготовиться к собеседованию в школе разговорного английского языка BTC English "Breakthrough" the Cool! with Alexander Gasinski Fluent English Getting interviewed ready How to prepare prepared to pass go through an interview in English успешное прохождение секреты тонкости полезные фразы собеседования при приеме на работу если плохо знаете английский язык вопросы и ответы при собеседовании Мария Пачас Maria Pachas